Rubber Tracks for Compact Track Loaders
Rubber Tracks for Compact Track Loaders
Compact track loaders offer exceptional portability and power — even in the most demanding working conditions. Compared to wheeled skid loaders, they provide better traction and stability, while still delivering superior lifting and digging capabilities.
A compact track loader (CTL) is only as versatile as the track it's running on. Most units come with a standard OEM track suitable for a range of applications. Upgrading to a heavy-duty replacement from McLaren Industries can improve performance and efficiency, while reducing wear and tear, saving you money and minimizing downtime for a critical component of your fleet.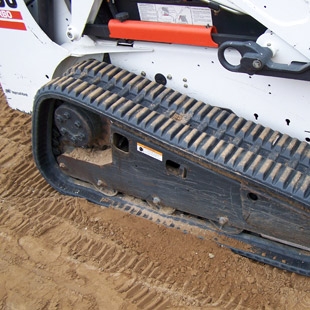 Benefits of McLaren Rubber CTL Tracks
McLaren Industries' rubber skid steer tracks last longer than OEM parts and offer several working advantages in rough terrain. Our tracks comprise multiple product lines as well as a variety of tread patterns and sizes. As a result, we have something for every fleet and every job — whether it's construction work in rocky soil, material handling in a waste processing facility or any job involving rain, snow or other extreme weather conditions.
Understanding our current lineup of rubber CTL replacement tracks will help you understand the specific benefits of choosing a McLaren Industries product. Read on for more information.


Terrapin Rubber Tracks
The Terrapin series contains our most versatile CTL rubber tracks. Terrapin tracks feature our exclusive SpoolRite Belting Technology™, which consists of a single continuous steel cable belting with no natural weak spots. What sets the Terrapin series apart, however, is a unique tread pattern that balances comfort, performance and longevity. Terrapin tracks deliver excellent traction while preventing rocks from getting stuck and causing damage. They are an ideal solution for general work applications, indoors and out.
NextGen™ Rubber Tracks
Also available is the NextGen Series, our original replacement rubber track product. The NextGen lineup consists of:

- NextGen Technology Design Formulation (TDF™) tracks, which we've engineered specifically for CTL use.

- NextGen TDF Super Series tracks, with 20% more rubber than the standard TDF product — ideal for heavy-duty applications.

- NextGen C pattern and block pattern rubber tracks, two classic patterns that we've upgraded with premium materials that will outperform the OEM product.

- NextGen zig-zag pattern tracks, which provide excellent wet traction in mud, making them the best option for slippery terrain.

- NextGen Turf™ pattern tracks, a series we've designed specifically for landscaping applications, offering a smoother tread and lower ground pressures for working in sensitive environments.
Maximizer™ Rubber Tracks
The Maximizer series is our value-priced line of replacement rubber tracks for compact loaders. It uses the same proprietary rubber compound as our more expensive lines and features up to 30% more material than an OEM alternative. Reinforced steel belting delivers overall integrity and a long service life. Choose Maximizer if you want superior reliability with your skid steer rubber tracks at an accessible price point.

Which Option Is Best for Me?
Which of our skid steer tracks is right for you depends primarily on the environment you are working in with your machine. For example, if you are working on environments such as golf courses, backyards of homes with generally mild terrain or even indoor operations, Terrapin rubber tracks are often the ideal CTL rubber tracks for the job. These tracks allow your CTL to function effectively without getting debris caught in the tracks and causing problems.
In more challenging, sensitive environments, Terrapin rubber tracks, as good as they are, can run into trouble and have difficulty getting traction in mud, for example. For these environments, you may want to try something in our line of NextGen™ rubber tracks.
If you need a tough, long-lasting set of rubber tracks that fit your budget, our Maximizer™ rubber tracks are often the right choice.
Explore Your Options With McLaren Industries
We offer the above products in a range of widths and configurations. While this should give you some general help finding the right skid steer tracks for your compact track loader, it's understandable if you're still not quite sure which are the right tracks for you and your business. Naturally, you want to be sure the CTL rubber tracks you choose are the ideal fit for your specific industry and applications.
Request a quote for skid steer rubber tracks, or call us at (800) 836-0040 for help choosing the best product for your needs. We'd be happy to recommend the best replacement rubber tracks for your budget.