Attachments pour McLaren Hydraulic Auger Systems
McLaren Hydraulic Auger Systems "The Augernator"
Having the right tool for the job is a critical part of being successful in today's competitive construction market. With this in mind, McLaren has developed an auger system to maximize the work potential of your machine.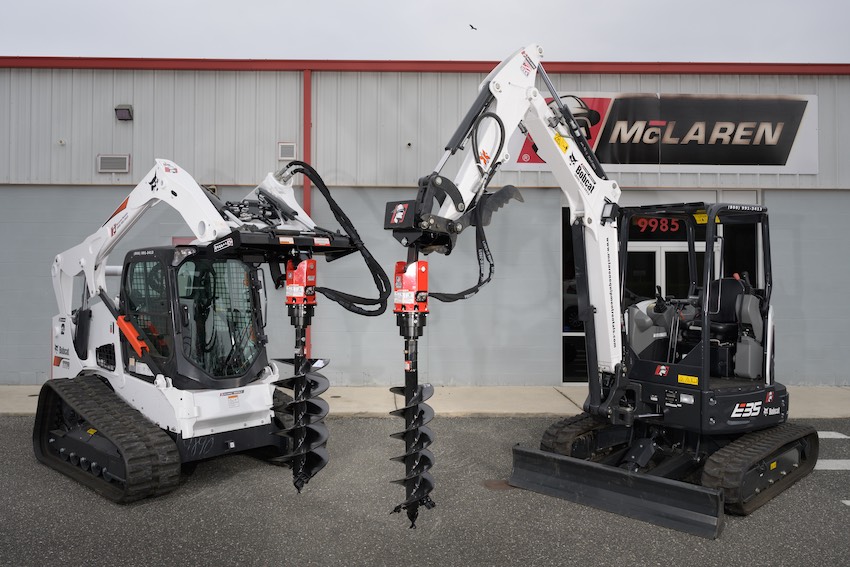 Our hydraulic auger systems, dubbed "The Augernator", offers multiple benefits for electrical post erection, fence construction, forestry, general construction, nurseries and many other applications. Our hydraulic auger system makes it easy to drill holes, shave stumps, split logs and more with McLaren bits and attachments. Compared to other auger systems, ours are more durable, versatile, and economical to maintain. Multiple sizes, hydraulic capacities, and configurations are available. We offer bits ranging from 4" to 36" in diameter.

Benefits
The Augernator was designed with compatibility in mind to fit on all major manufacturers including CAT, Case, John Deere, Bobcat, Kubota, Komatsu, Kobelco, New Holland, Takeuchi, Yanmar, Gehl, and more. Not only can you use The Augernator on skid steer loaders and compact track loaders, but they are also designed for mini-excavators as well. High flow hydraulic augers are also available.
Compared to other CTL and excavator auger attachments, our products offer improved quality, longer service life, and lower maintenance requirements. We strive to manufacture the highest quality products at the most competitive price. You'll be saying "I'll be back!' after one use of The Augernator.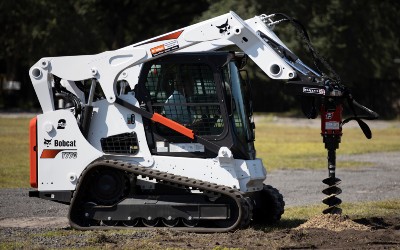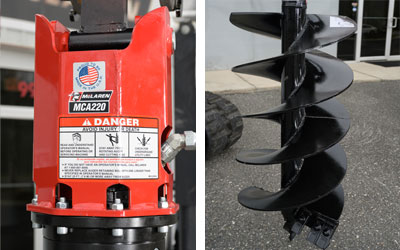 Product Specifications
The Augernator is ideal for various industries and applications. A robust planetary drive, manufactured using hardened, precision CNC cut gears, and a motor rated up to 3500 PSI means greater torque than our competitors. A single shaft, precision cut by CNC lathe, eliminates any kind of spindle drop or pullout during heavy loads. The output shaft is designed with special metal alloys, heat treated and hardened, to handle the most demanding jobs. The fully sealed planetary drive also features easily accessible check and fill plugs which means quick and easy maintenance and increased longevity. Made with the strongest steel, precision gears, toughest motor and highest quality bits you can find, prepare to say "Hasta la vista, baby" to the other guys.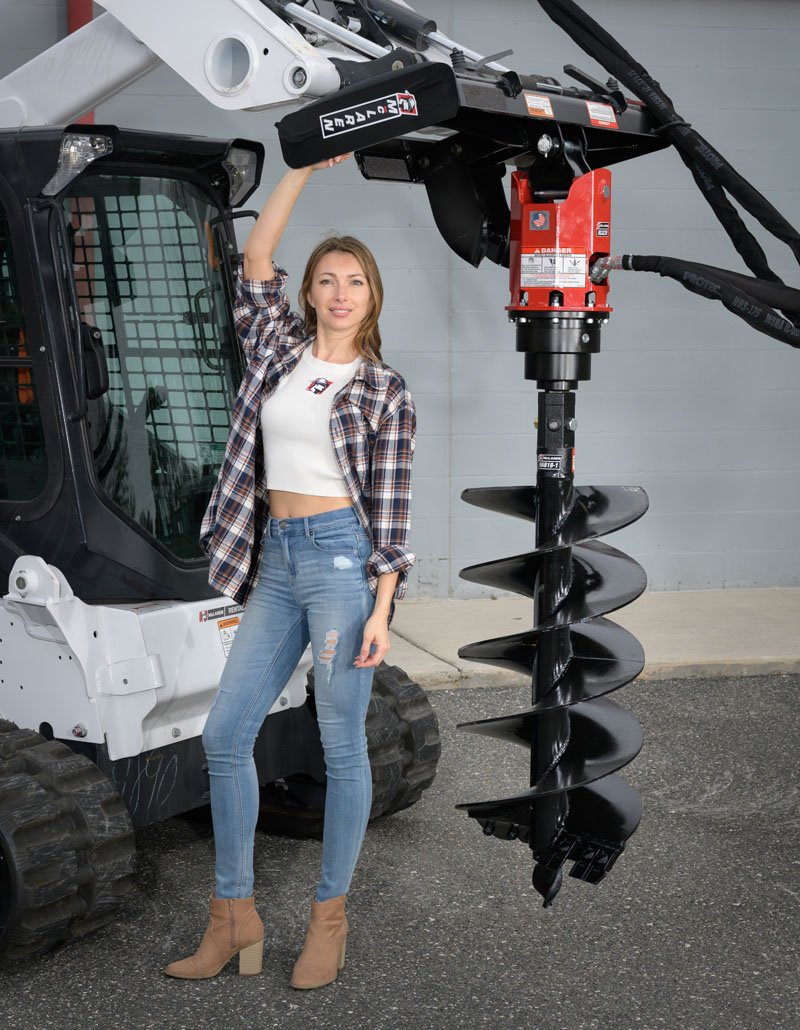 -The output spindle is a heat treated, hammer forged single piece, allowing us to offer a lifetime warranty covering output spindle pullout
-McLaren augers are available with mini-excavator, compact track loader or skid-steer mounting brackets, offering a more diverse way of using our auger
-Custom brackets also available for a wider variety of machines
-Top mounted hydraulics allow you to dig below surface level with ease.
-Hydraulic hoses and flat faced couplers included
-Featuring a wide range of heavy duty industrial 48" auger bits available from 4" to 36" in diameter, to meet the toughest demands
-Models range from 10 GPM to 35 GPM to fit a wide variety of machines
-Hardened steel outer casing prevents cracking and premature spindle ejection

No other hydraulic auger on the market today will outperform The Augernator, guaranteed. We terminate the competition by using the latest technology to manufacture The Augernator to the highest standards, all while having the most competitive price on the market. Blast some holes, with The Augernator! Go McLaren, go extreme!


Contact McLaren Industries to Learn More
Our hydraulic Auger systems "The Augernator" are just one of the many attachments we manufacture and sell to fleets throughout the country. Let us match you with the best solution for your needs. Contact us by phone at (800) 836-0040 or request a quote today.