Attachments for Skid Steer Brush Cutter
McLaren Blade Runner Series

Skid Steer Brush Cutter / Brush Mower / Bush Hog
If you are looking to purchase a quality brush cutter attachment for your skid steer or compact track loader, McLaren offers the best value in the industry with its Blade Runner series of hydraulic brush cutters.
McLaren's Blade Runner series brush cutter skid steer attachment is made with heavy duty plate steel and AR400 steel blades. The deck and push bar are made using high strength 7-gauge steel and provide rigidity and long-term durability.
McLaren's brush cutter is a simple and efficient design that increases productivity while reducing maintenance costs. The Blade Runner mower is more than capable of handling the thickest undergrowth and tallest grass you can throw at it. The Blade Runner bush mower offers the lowest cost of ownership for a quality brush cutter.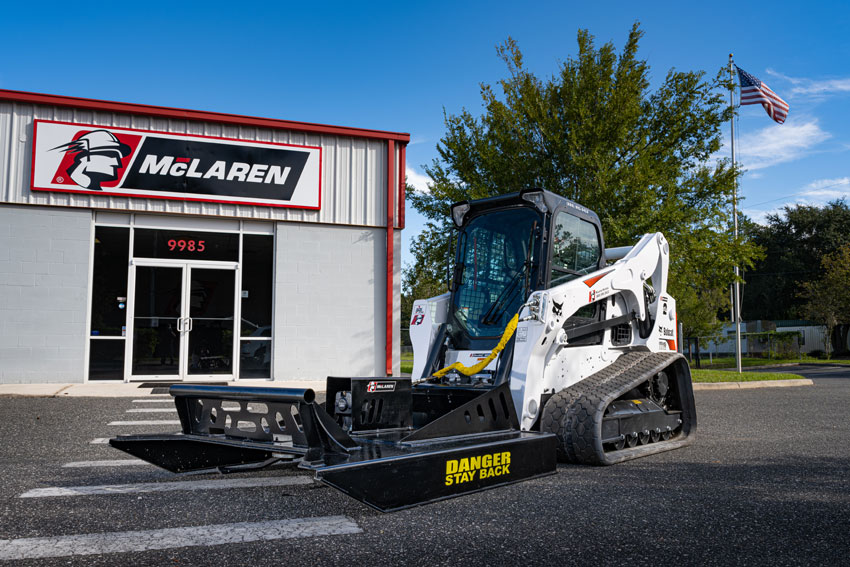 Our bidirectional three-blade design is best for maximum cutting performance. Our blades are ½" thick hardened AR400 steel that are built to swing and break away if they come into contact with rocks or other debris and are easily replaceable if damaged. Replacement blades are available through us, if needed. Our blades are 18" long and 3" wide, making quick and easy work of thick brush and large mowing areas. Our brush cutter can handle any brush up to 3" in diameter.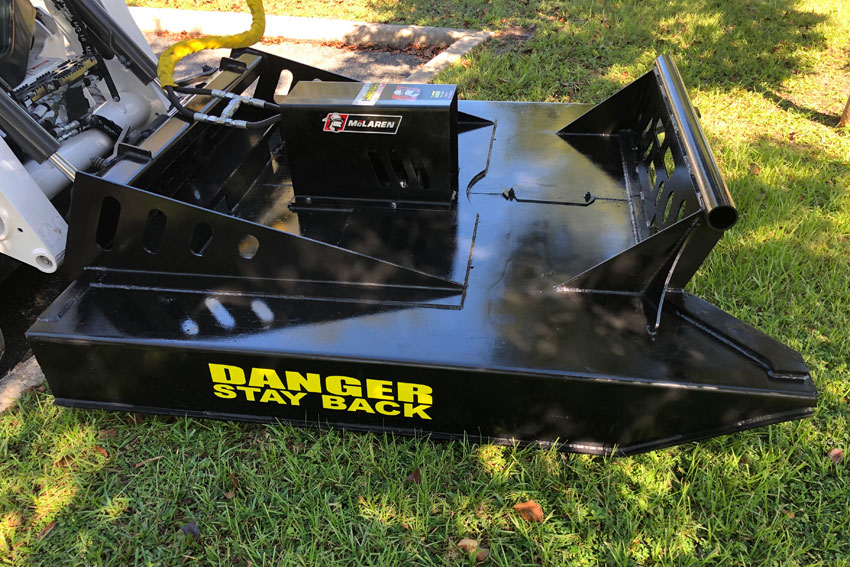 Blade Runner Series Brush Cutter Competitive Advantages:
-Made in the USA
-Parker brand hydraulic hoses and couplers
-Internal cross porting for maximum flow
-Pressure relief valve to prevent motor damage
-Designed to be compatible with all Skid Steer Standard Flow GPM ratings
-Heavy duty bearing assembly for longevity
-Vented motor guard to prevent overheating while protecting the motor
-1,100 lbs, built heavy to last
-Laser cut chain slots for maintaining safe cutting height
-90 day warranty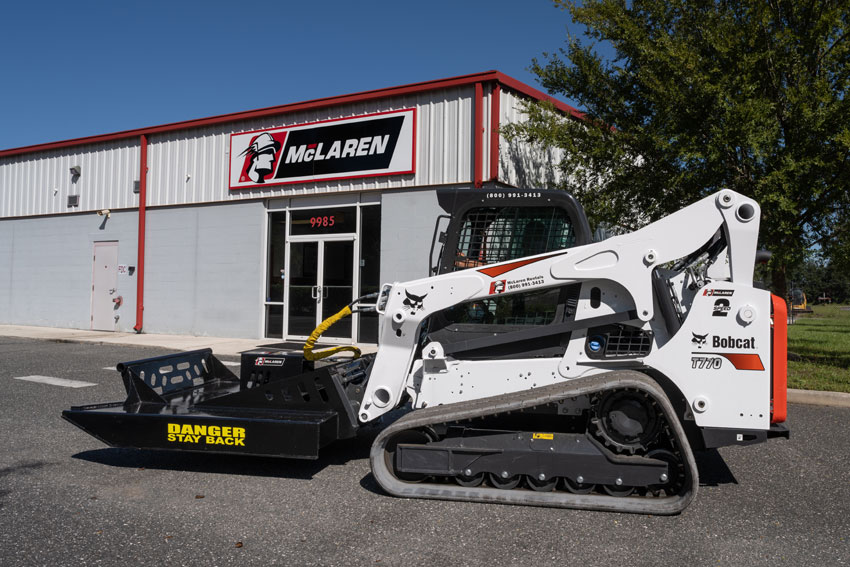 When the time comes to take back your property from overgrown grass and brush, give McLaren Industries a call. Our brush cutter is hands down, one of the best in the industry and with 23 years of experience in the construction field, we know what it takes to get jobs done. Go McLaren, go extreme!


Contact McLaren Industries to Learn More
Skid Steer Brush Cutter is just one of the many attachments we manufacture and sell to fleets throughout the country. Let us match you with the best skid steer brush cutter for your needs. Contact us by phone at (800) 836-0040 or request a quote today.