Solid Cushion Tires for Backhoe
Backhoe Tires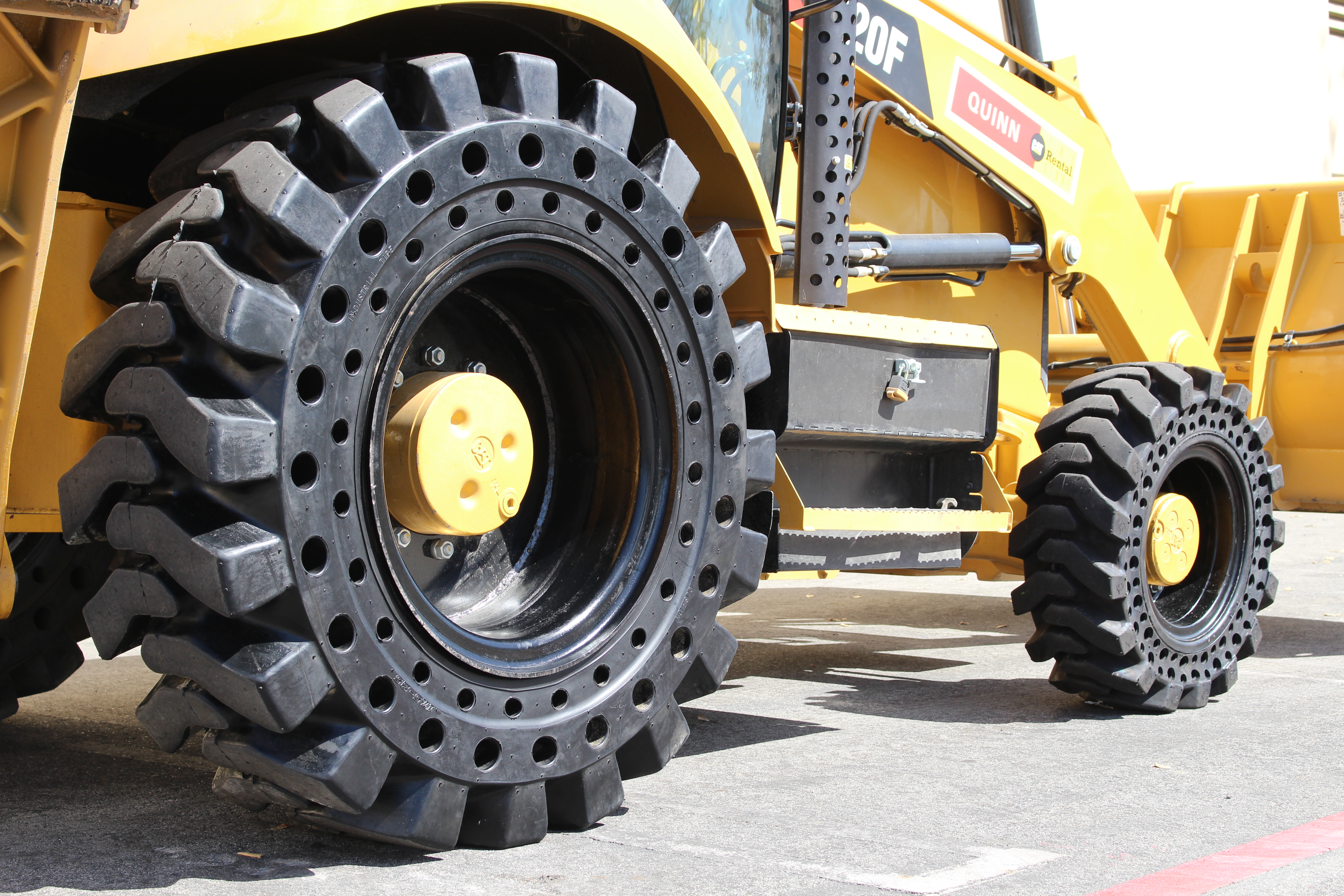 Backhoes play critical roles in many construction projects — from loading and material handling to earthmoving, grading and more. A machine's ability to take on these tasks starts from the ground up. The right set of backhoe tires will directly impact traction, stability and other factors that are critical to how and where your team can work.

McLaren Industries manufactures a full lineup of solid rubber backhoe tires. We engineer our products to work with equipment by all leading manufacturers and deliver superior performance in even the most demanding environments. Keep reading to learn more about the advantages of choosing a McLaren backhoe tire replacement and find out about the various product lines that we offer.
Benefits of a Solid Rubber Backhoe Tire
100% No Flats. Lower cost-per-hour than regular pneumatic or foam-filled tires.

McLaren solid rubber backhoe tires have several advantages over competing products, including:


Industry-leading puncture resistance: Our solid cushion tires have layers of side wall holes. This feature is designed for backhoes. McLaren solid rubber cushion backhoe tires eliminate the need for additional protection as you can run over nails, metal, glass, and even run when chunks of your tire are completely missing. Our solid cushion tires are heavy and give you the stabilizing weight you need. Reduce the risk of unanticipated downtime, extend the life of your tires and stay productive for longer by choosing one of our Nu-Air® products.

Improved comfort: This characteristic is possible thanks to our Semi-Pneumatic Technology™. Our backhoe tires feature three layers of proprietary rubber compounds and strategically placed cushioning holes to absorb shocks. The result is a smoother ride and improved operator comfort, even on a long shift.

Improved traction: Traction has been improved with the exclusive Nu-Air Dirt Terrain (DT™) line. DT series tires excel in off-road environments and feature deep lug treads for enhanced grip and higher overall stability. Our backhoe tire products are suitable for use in a wide range of terrains, from loose sand and rocks to deep mud.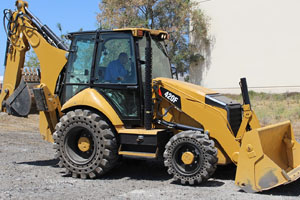 Our Products
The Nu-Air product line includes four standard and heavy-duty solid backhoe tires. All products feature our Semi-Pneumatic Technology and are suitable for use on machines by Cat®, John Deere, CASE, JCB, Gehl, Kubota, and other manufacturers. Explore our tire lineup:
Nu-Air Dirt Terrain (DT) tires: The Nu-Air DT series is one of our most versatile products — ideal for use in off-road applications such as heavy construction, quarry and aggregate, mining, and more. Available sizes range from 10-16.5 (30x10-16) to 17.5-25 (53x17.5-25).
Nu-Air All Terrain (AT™) tires: Nu-Air AT tires have a unique tread pattern that delivers heavy-duty performance in on-road applications, particularly on abrasive surfaces such as concrete, asphalt, and cement. AT tires feature a wide footprint design for increased ground pressure and longer service life. Sizing ranges from 10-16.5 (30x10-16) to 17.5-25 (53x17.5-25).

Nu-Air (RT™) tire: We've specially engineered the Nu-Air RT series for rocky terrain. It features the same wide footprint design as the AT lineup, but with a unique tread pattern for increased durability when working in scrap yards, demolition sites, and other demanding environments. Typically reserved for larger machines, we offer these solid rubber backhoe tires in 14-24 (53x14-24) sizing only.

Nu-Air (SS™) tire: The SS series is our economy line of solid rubber backhoe tires. It's a practical, cost-effective choice that offers maximum surface contact when working primarily in flat asphalt or concrete environments. Sizes range from 14-24 (53x14-24) to 17.5-25 (53x17.5-25).

For more information about our complete lineup of replacement backhoe tires, or for help choosing the best product for your application, contact a McLaren Industries representative online or call us at (800) 836-0040.