McLaren's power rake is a perfect skid steer attachment for multiple applications, like soil conditioning, leveling the surface of your land, seeding and other surface treatment. Built with high quality materials, our Harley rake will outlast and outperform the competition.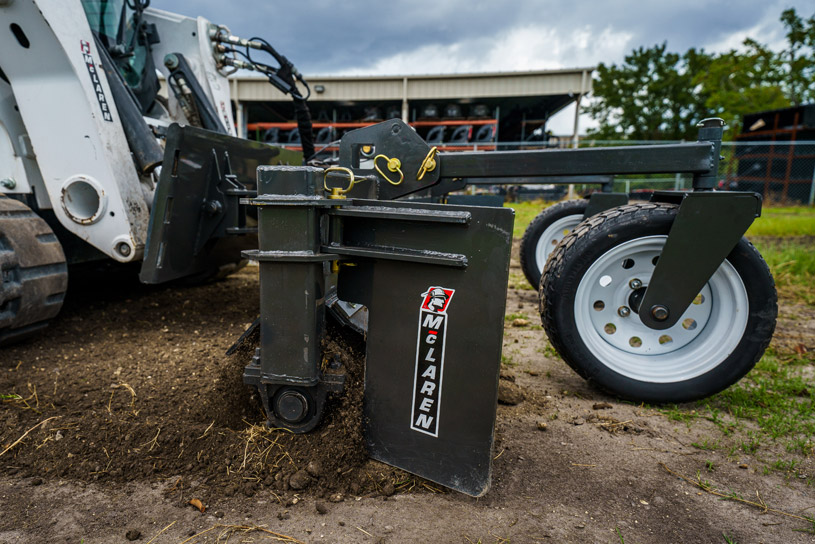 McLaren's skid steer power rake offers great ground speed with its large-diameter rotor and aggressive teeth that pulverize the soil on the go. The counter-rotating rotor action moves soil ahead while tilling. This allows you to fill in low spots and cut down high spots in one pass. This unit conditions soil for seed and sod preparation, as well as grades and levels for a truly professional finish.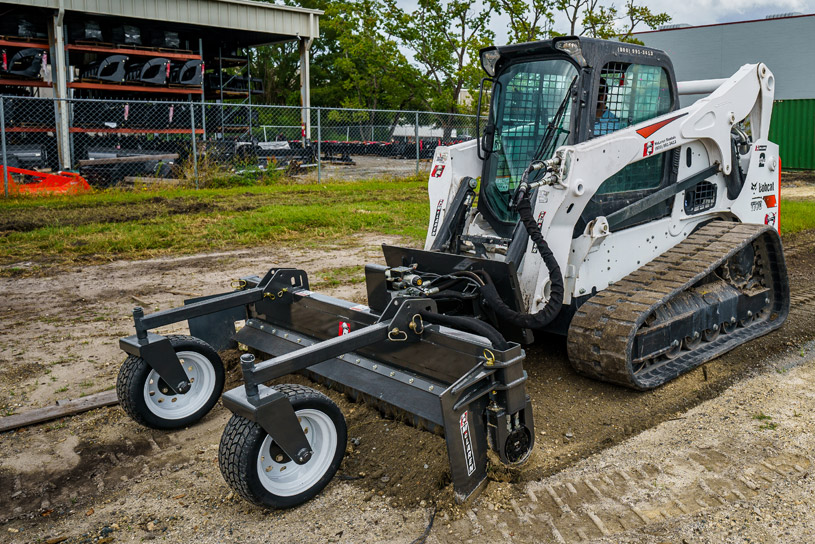 This high performing soil conditioner can stand up to the harshest applications thanks to an inset 16-26 GPM Parker Direct Drive Motor providing industry-leading durability and power. This motor combined with an optimized drum size and aggressive, 2" carbide teeth can handle even the most rugged surfaces.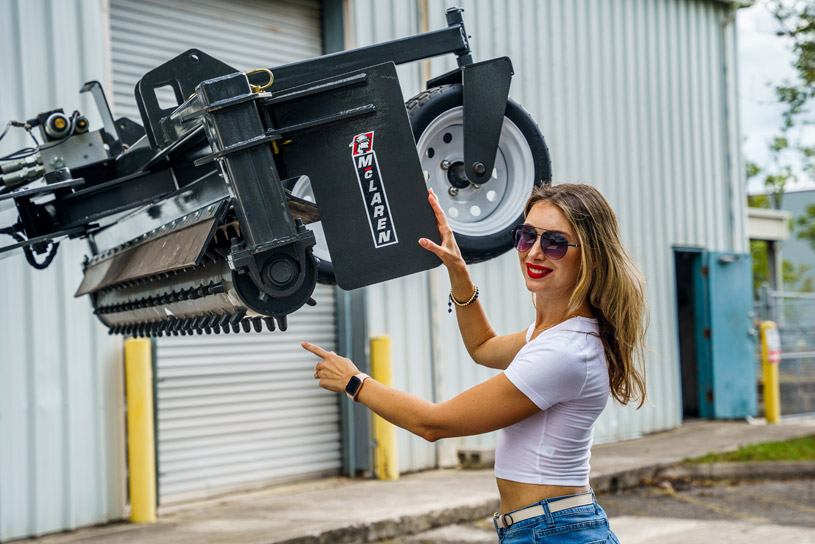 Skid steer power rake by McLaren is built for longevity with extra protection featuring powder coated steel, inset direct drive motor and protective sleeves for all hoses. These features protect your attachment from the damage of everyday wear and tear.
Available sizes: 72" and 90" Wide
Key Features
High-Performance Parker Direct Drive Motor: The power rake is equipped with an inset 16-26 GPM high-performance Parker Direct Drive Motor, known for providing industry-leading longevity and power, enhancing the attachment's soil conditioning performance.
Inset Direct Drive Motor: McLaren's Harley rake utilizes an inset motor to prevent debris or other materials from damaging critical components necessary for operation.
Bi-directional Drum: The bi-directional drum design allows for complete cutting freedom, optimizing the skid steer power rake's performance and efficiency.
Carbide Teeth Lined Drum: The use of a proprietary 2" carbide tooth design in the skid steer power rake represents a significant advancement aimed at optimizing performance and durability.
Hydraulic Angle Control: Angle is controlled with hydraulic cylinder from the comfort of inside the cab.
Removable Side Plates: The incorporation of easily removable and reversible end plates adds significant versatility and functionality. This feature allows you to control the direction material is moved as well as rake material forward or in reverse.
Solid Foam-Filled Tires: The integration of dual adjustable foam filled tires into the design of the McLaren skid steer Harley rake is a valuable feature that enhances precision during soil conditioning and land preparation.
Powder Coated Steel: The use of powder coated steel prevents damage and improves durability.
Sleeved Hoses: Double woven sleeves that protect hoses during everyday use.
Extreme Duty Bearings: The use of extreme duty bearings in the skid steer power rake is a testament to our focus on durability, longevity, and minimizing maintenance needs.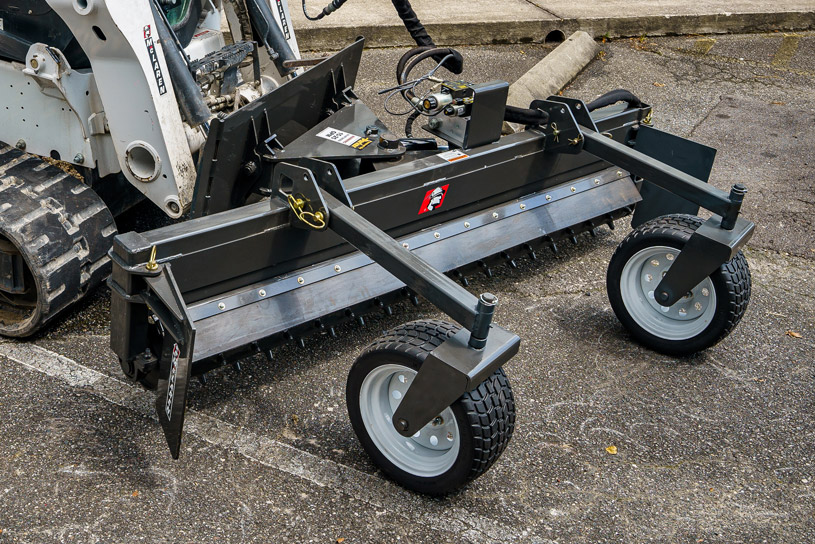 Application
Seed and Sod Preparation: Prepare the surface of your property for seed and grass.
Mixing or Blending: Blend topsoil with lime or other materials to aggregate.
Leveling: Turn over compacted gravel or crushed limestone to fill uneven spots in your driveway and return to a level surface.
Grading: Grading soil and gravel are a crucial step in preparing a stable and level surface for various construction projects, landscaping, or improving drainage.
Smooth Ruts: McLaren's skid steer power rake is an excellent solution for eliminating ruts and restoring your property to a smooth, even surface.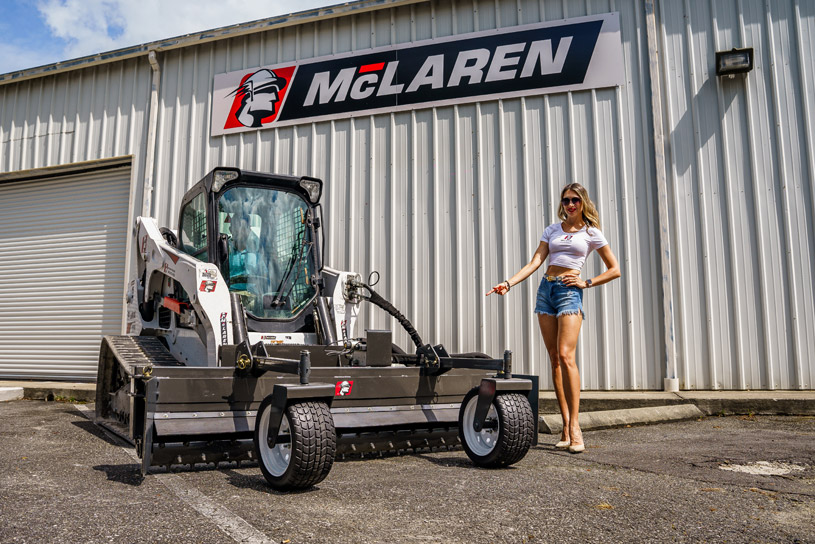 What's Included
McLaren Skid Steer Power Rake

Flat Faced Couplers

Hydraulic Hoses

Owner's Manual
Specifications
Drawing of 72" wide Power Rake:

Contact McLaren Industries to Learn More
Our Skid Steer Power Rake is just one of the many attachments we manufacture and sell to CTL, MTL, and Skid Steer customers throughout the country. Let us match you with the best solution for your needs. Give us a call at (800) 836-0040 or request a quote today.