Attachments for Skid Steers and CTLs
Stump Bucket for Skid Steers
McLaren Industries' skid steer stump bucket makes quick work of clearing out stumps, roots and large rocks. Ideal for landscaping and construction crews, our products expand the capabilities of your fleet and help you maintain productivity in busy jobs.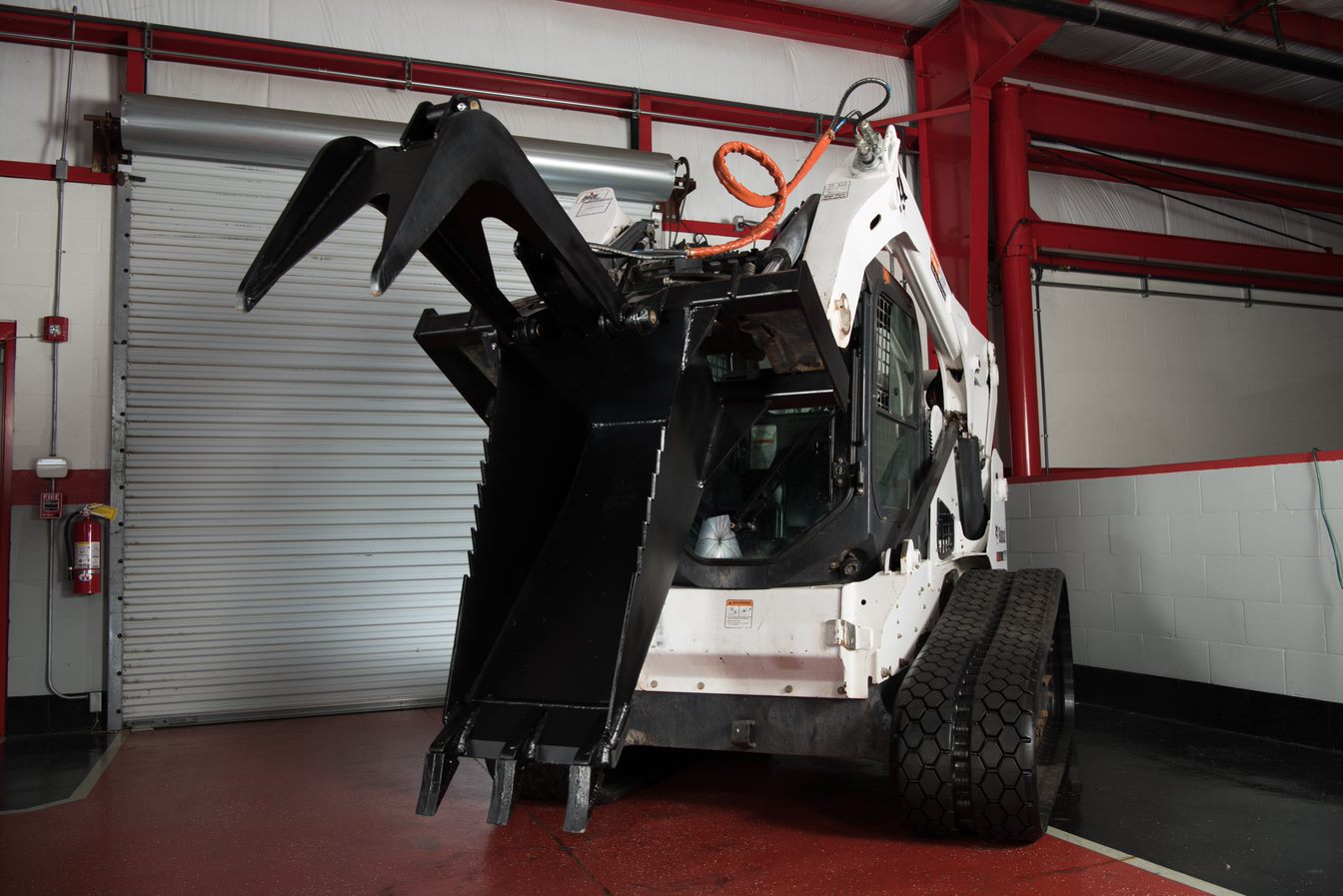 We engineer our skid steer stump buckets for long-term performance and low maintenance requirements. Suitable for use with machines by Cat®, Case, Bobcat and other leading manufacturers, they feature a universal hookup for easy installation with a minimal amount of downtime.
Several models, sizes and configurations offer options for all fleets. Read on to learn more about the benefits of our products, or get in touch with a McLaren Industries representative for additional details and specifications.
Non-Hydraulic Skid Steer Stump Bucket
Our non-hydraulic skid steer stump bucket has the widest design on the market — perfect for digging up stumps and rocks of any size, without the need for a hydraulic grapple. Extra-heavy steel construction makes it possible for our skid steer stump bucket to clear out trees up to 6" in diameter, as well as stubborn underbrush, shrubs, stumps, vines, and palmettos.

Several premium features make our skid steer stump bucket attachments one of the most rugged and robust options available today. All models feature a 5/8" reinforced backplate, a reinforced mounting plate for extra lifting capacity and a set of heat-treated, wear-resistant teeth that are replaceable for extended longevity.

More than just durable, however, our stump bucket attachments feature multiple engineering upgrades designed to improve productivity and performance, even in demanding jobs. An angled fulcrum point gives greater leverage while prying, while a curved bottom reaches deep under stumps and can extract large rocks effortlessly. Serrated sides cut and rip roots, while the extra-long teeth provide maximum leverage and breakout force.
Hydraulic Stump Bucket Grapples
We also offer our skid steer hydraulic stump bucket grapples with hydraulic thumb, further adding to the overall versatility of the attachment. With it, you can load logs and scrap, lift rocks and perform other tasks necessary for storm cleanup, demolition and other applications. Effectively, it doubles the capabilities of your skid steer loader, using a single attachment to do the work of two machines.
Our hydraulic skid steer stump bucket grapple includes the same heavy-duty construction and advanced feature set as the non-hydraulic version, with the addition of a 3,000 psi hydraulic cylinder, 5,600 psi hydraulic lines and a cylinder guard to prevent pinching or damage during use.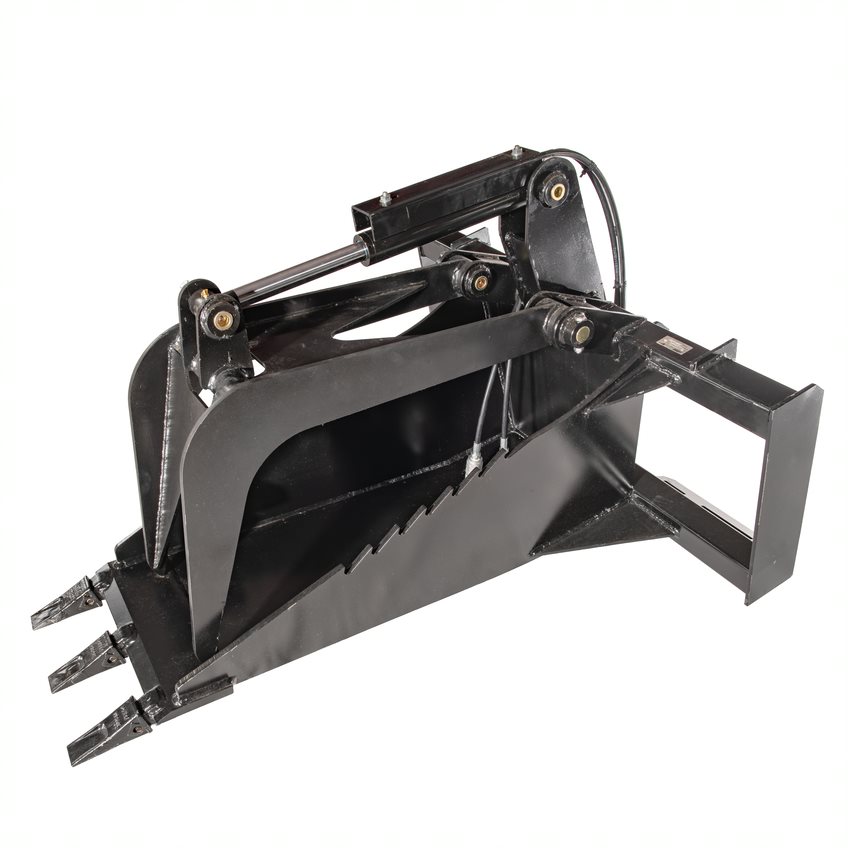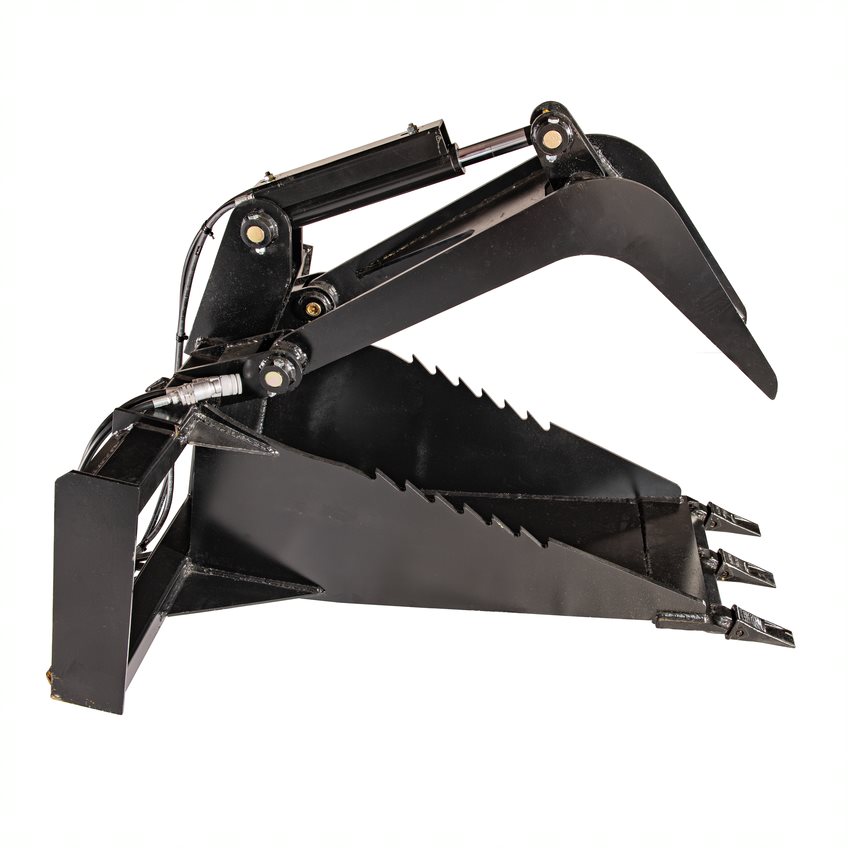 Key Benefits
Both the hydraulic and non-hydraulic skid steer stump buckets offer exceptional performance in demanding situations. With them, you can expand the capabilities of your fleet, taking on more jobs with less downtime and fewer expenses. Our stump buckets for skid steers are easy to use and train new staff on, and they are engineered to get complex tasks done.

Experienced construction and landscaping crews know that the right attachments are as necessary as the right equipment. Stump buckets are quick to install and reliable in almost any application. Skid Steer stump buckets can help you run a more streamlined and efficient business, maximizing your bottom line without compromising the quality of the work you do.

To learn more about our skid steer stump bucket attachments, call us at (800) 836-0040. You can also request your quote online today.