Solid Cushion Tires for Skid Steers
Skid Steer Tires
McLaren Industries is the #1 manufacturer and supplier of skid steer tires.  We offer the most complete range of flat proof skid steer tires on the market.  For over 20 years, McLaren has been the leading innovator in the construction machinery solid tire industry.  McLaren also offers the most comprehensive range of skid loader tires.

If your work takes you into rough terrain, you know how important it is to find the right skid steer tires for your machinery. Often, a set of pneumatic tires won't offer the performance you require and can put you at risk of punctures, unanticipated downtime and lost productivity.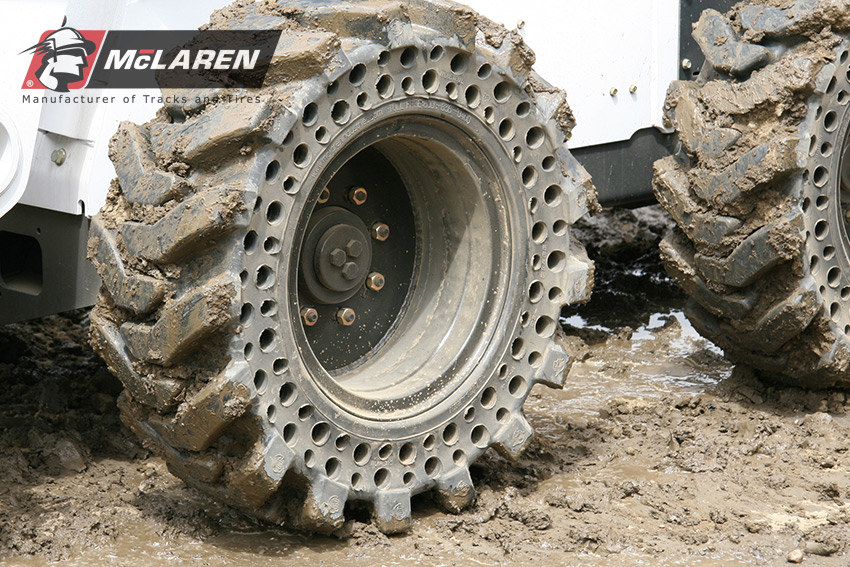 Product Benefits
Zero Flats. Zero Down Time. Nu-Air® solid skid steer tires integrate the strength and stability of a solid tire with the smooth, cushioned ride of a pneumatic tire.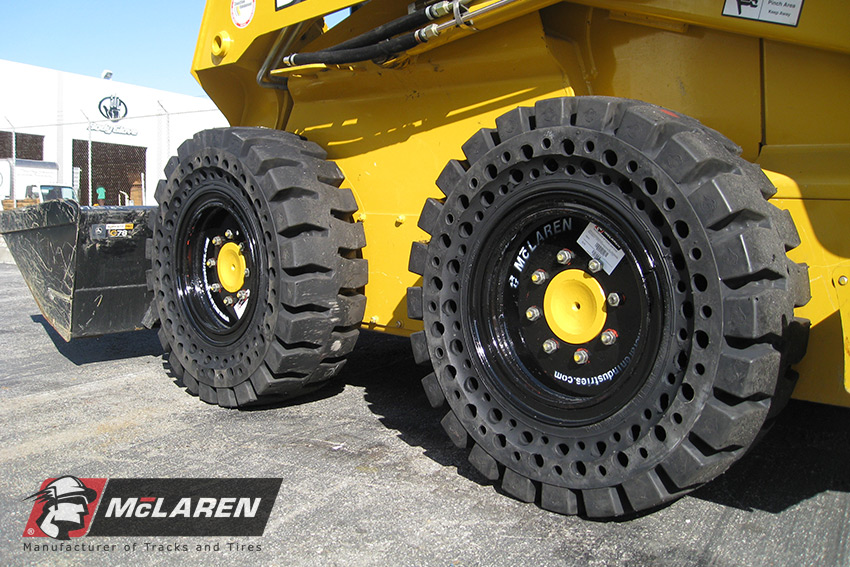 McLaren Industries' heavy-duty solid skid steer tires feature rubber construction using our three-layer Semi-Pneumatic Technology™. The Nu-Air® product family offers several benefits and is suitable for use with nearly all skid steer makes and models. Our skid steer tires have these key advantages:

- Superior longevity, with up to five times more wear resistance than standard pneumatic tires
- Specially engineered sidewalls that prevent cutting and snagging
- Multiple tread depths and patterns for use in various terrains
- Cushioning sidewall holes that deliver a smooth, comfortable ride


The big advantage of contacting McLaren Industries is that we have manufactured skid steer tires of OEMs for many years enabling us to develop a superior technology in this industry.  We have a wide range of skid loader tire options, so no matter what tread type, size, or environment you use your machine, you'll know you will be getting the best heavy-duty skid steer tires for the money from McLaren.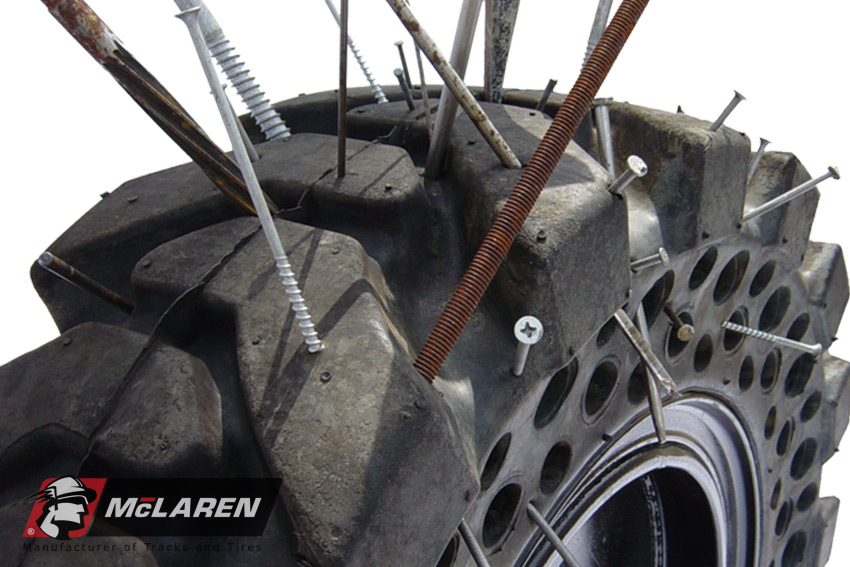 Choose a McLaren flat-proof skid steer tire for performance, comfort, and longevity. The skid loader tires we have for sale work great on their own or with our over-the-tire tracks. Keep reading to learn more. 


Our Products
We manufacture and sell multiple types of heavy-duty rubber skid steer loader tires to suit different applications and industries. Our product lineup includes:

Nu-Air Dirt Terrain (DT™) tires: The Nu-Air DT is our best-selling and most versatile skid loader tire. It features a deep tread design for added traction in rough terrains such as dirt, sand, mud, and rocks while still delivering a smooth, balanced ride. Sizes range from 8.5x12 (23x8.5-12) to 14x17.5 (36X14-20).

Nu-Air All Terrain (AT™) tires: The Nu-Air AT builds on the strengths of the DT series by offering a wide footprint design for better skid loader tire performance on hard, flat surfaces. With 25 percent more rubber and 10 percent deeper tread, AT tires make it easier to lift heavier loads when working on asphalt or concrete — perfect for demolition, scrap work, and other applications. Two sizes of heavy-duty skid steer tires are available: 10x16.5 (30x10-16) and 12x16.5 (33-12x16).

Nu-Air XDT™ tires: The Nu-Air XDT series is the extreme-duty version of the DT line — suitable for use in the most demanding applications. These skid loader tires feature a bonded tire and rim to eliminate the risk of separation when pushing or pulling high-torque loads. We offer our Nu-Air XDT tires in 12x16.5 (33x12-22) size, with an optional orange, non-marking surface.

Nu-Air AirMonster™ tires: The AirMonster series is a wider version of the Nu-Air DT, available in 32.5x15-16 size only. Use it for any application requiring lower ground pressure and increased flotation while using our solid skid steer loader tires.

Maximizer™ tires: The Maximizer series is a budget-oriented version of the DT, featuring the same tread pattern but a larger rim. It is pound for pound the best value in the market for its price range. These solid skid steer tires are a good choice for off-road use in construction, quarry, and mining job sites. Sizes include 10x16.5 (30x10-20) and 12x16.5 (33x12-20) in standard and Lite configurations.
How to Find the Right Skid Steer Tires for Your Needs
We can absolutely provide you with the right quality skid steer tire to suit your needs, but how do you know exactly what those needs are?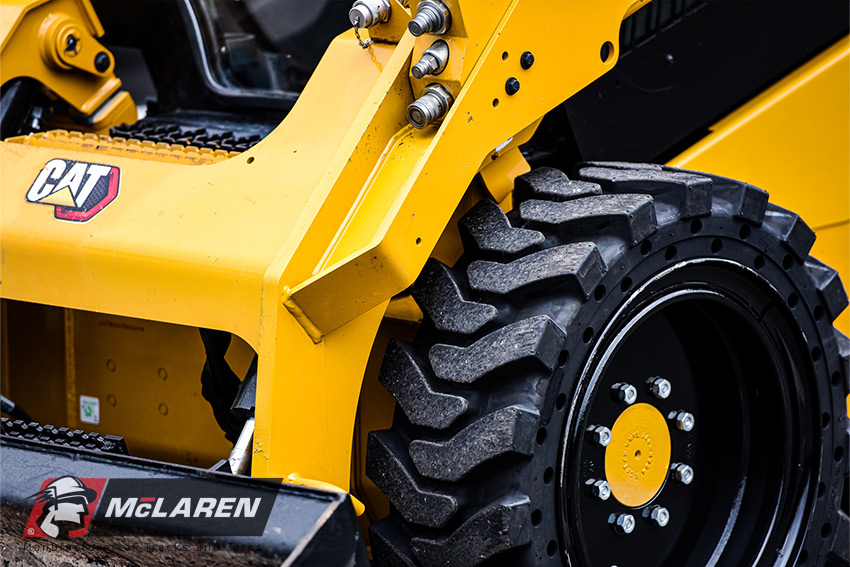 If you're working in a variety of terrains for your applications, our Dirt Terrain (DT) skid steer loader tires are usually the optimal choice. They provide a smooth ride over flat surfaces but can still take on soft ground and debris. If you expect to be working on harder surfaces like concrete and carrying heavier loads like scrap metal, the All-Terrain (AT) tire is usually a better option. For mining, heavy construction or other environments that are incredibly tough on tires, try our extreme-duty XDT tires. We even carry skid steer tires for smaller machines with our mini skid loader tires. 
If you're still not sure quite which of these are the best option or you think you may be better suited to the AirMonster or Maximizer tires, don't worry. We'll help you figure it all out. Contact us to speak to one of our experts, and we'll identify the right skid steer tire based on your needs.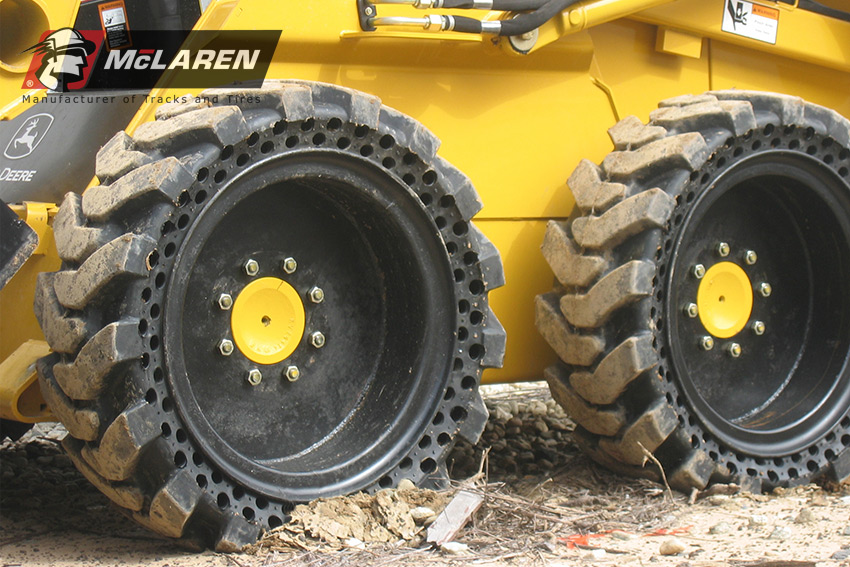 Learn more about our lineup of skid steer tires for sale by contacting a McLaren Industries representative online or by calling us at (800) 836-0040.

Request a Quote