Industrial Solid Rubber Tires
Tires provide a critical link to the ground for construction equipment like skid steers, excavators and backhoes. The right tires can optimize your productivity, enhance ride quality and operator comfort, and improve your bottom line. It is for this reason that many fleet owners are swapping out their OEM tires for heavy-duty, industrial solid rubber tires from McLaren Industries.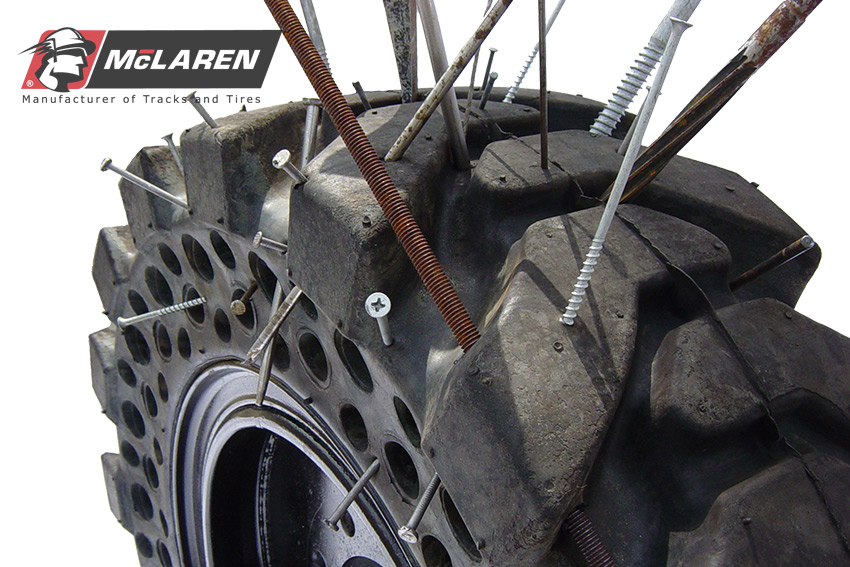 Our products incorporate a range of proprietary technologies that make them stronger and more responsive than a pneumatic tire. Read on for more details or get in touch with one of our representatives for more information.
What Is Semi-Pneumatic Technology™?
Semi-Pneumatic Technology is an engineering innovation exclusive to McLaren Industries' industrial solid tires. Its three-layer composition includes a rigid base compound with bead wire running throughout for additional durability, followed by a proprietary cushion compound with shock-absorbing relief holes and a tough outer tread layer for improved puncture resistance. More and deeper apertures creating double or more cushioning effect then the competition.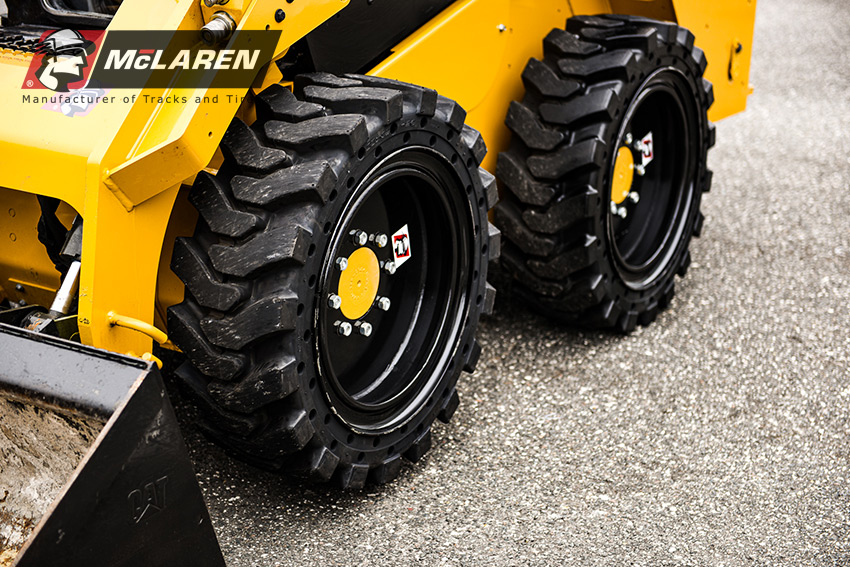 The result is an industrial solid rubber tire that lasts four to five times longer than a standard product while delivering improved traction, greater lifting ability and zero downtime due to flats. Together, these benefits translate to a lower cost per hour, without sacrificing performance on a demanding job.

Heavy-Duty Solid Cushion Tire Options for All Machines — and All Jobs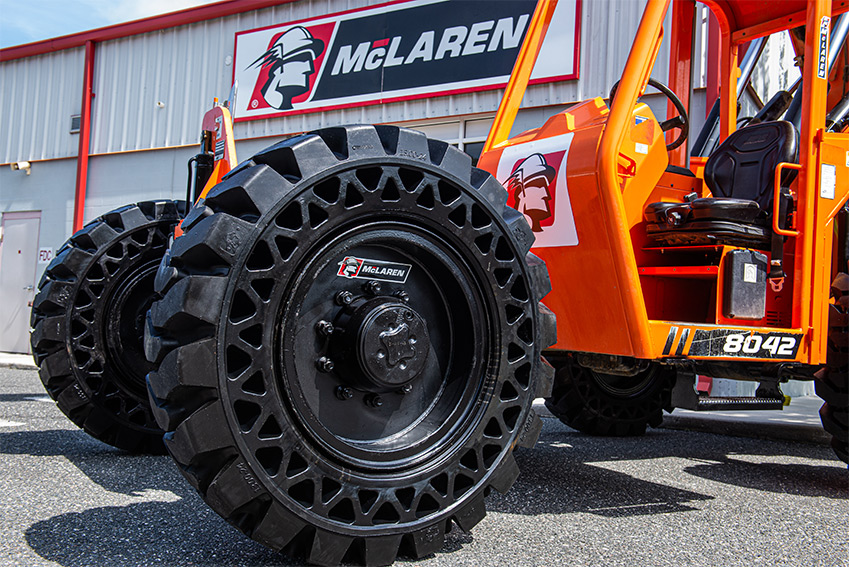 McLaren Industries' industrial solid rubber tires encompass a range of styles, sizes and tread patterns. Whether you need something that will stand up to the most demanding environments or something economical for everyday use, we can match you with the best tires for your needs. Our core product lines include the Nu-Air series, which consists of:
Dirt Terrain- for use in rough terrains such as dirt, sand, mud, and rocks.
All Terrain- rough terrain capability with better performance on flat, hard surfaces
Rocky Terrain- unique tread design for increased durability for most demanding environments
Smooth Surface- tires for use on flat concrete and asphalt
X- Dirt Terrain- the extreme-duty version of our dirt terrain tire

Air Monster-

designed for use in applications requiring lower ground pressure
We also offer the value-priced Maximizer™ line of industrial solid tires for less demanding applications or occasional use. We deliver all products on standard multipiece rims for fast installation on any skid steer, telehandler, backhoe, or wheel loader.


What Machines Do Our Tires Fit?
We have heavy-duty solid cushion tires for virtually all the wheeled earth-moving and other heavy construction equipment you might use in your construction or landscaping jobs, from skid steers to telehandlers to backhoes and more.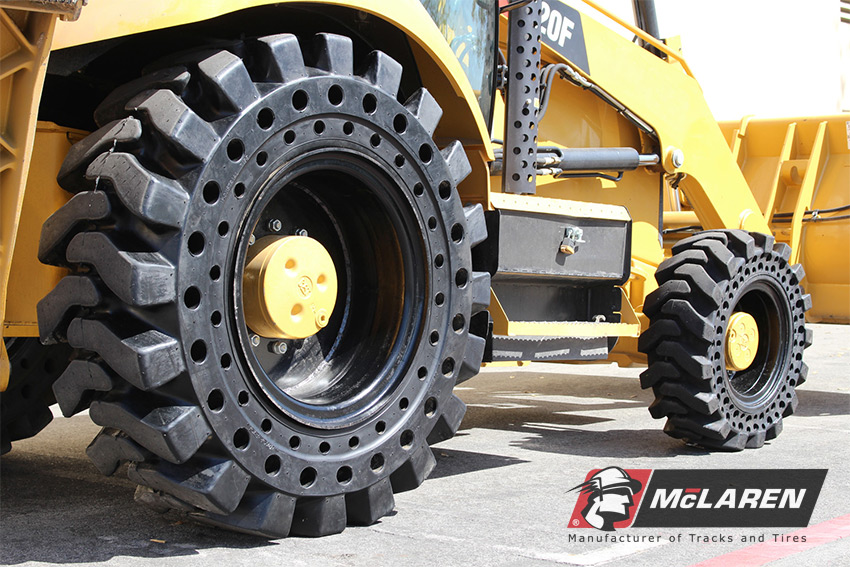 You don't need to worry about matching up our solid rubber products with your John Deere, Cat® or other manufacturers. We create aftermarket industrial solid tires for all major brands of heavy equipment machines, and we'll have no problem finding the right solid tires for your machines. As a company that spent years manufacturing OEM parts, we know exactly how to make products that are the right fit for your preferred brand.
In fact, we feel our industrial solid rubber tires are not just a good replacement for your original Cat®, John Deere or other heavy equipment tires, they are better. We know what OEM parts are capable of and we know what our aftermarket products are capable of, and we employ rigorous research and proprietary technology to make sure our rubber tires far exceed your expectations.
You should certainly get in touch with McLaren industries if your current rubber tires are completely worn out, but we suggest you contact us even earlier and switch out your tires right away, so you can start benefitting immediately from the smooth ride, extra strength and unparalleled durability of our line of solid rubber tires.
What Applications Do Our Tires Work In?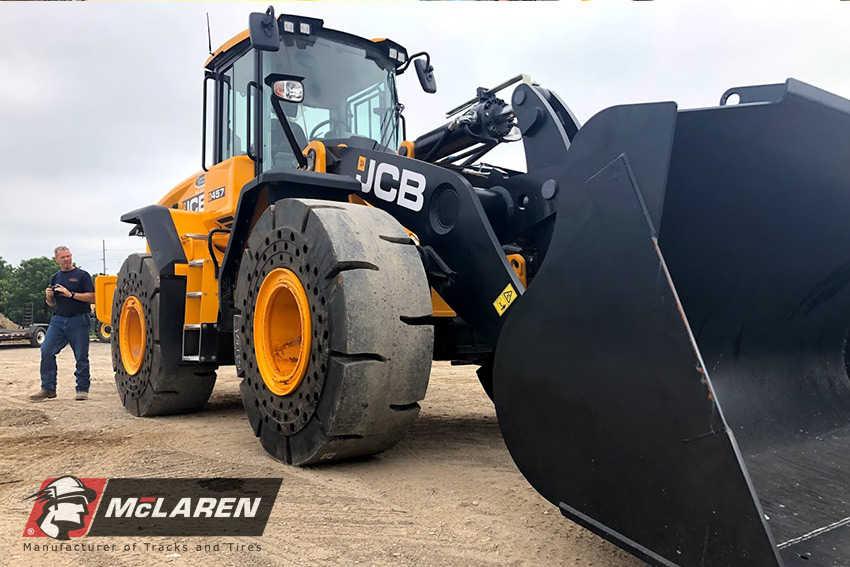 Any applications where you would normally use this type of heavy equipment can utilize these tires. One of the benefits of pneumatic tires is that they provide a smooth ride even on rough terrain and offer great traction, the downside being that they puncture easily. Our tires do not.
Thanks to our semi-pneumatic technology, you can get all the benefits of pneumatic tires without fear of puncturing and flats, meaning they are suitable for just about any application.
If your applications tend to run towards typical soft earth environments like golf course maintenance or landscaping, our Nu-Air Dirt Terrain solid tires should be more than up to the job. If you know that some of your work will take place on flat, harder surfaces like concrete or asphalt, the All-Terrain model may be a better fit.
If you expect to be working almost exclusively on hard-surface environments or almost exclusively on very rough terrain environments, you will want our Smooth Surface or Rocky Terrain tires, respectively.
If you're having trouble matching up the right rubber tires with the needs of your environment, that's no problem. That's what we're here for. When you get in touch with us, one of our McLaren Industries tire experts will discuss your specific machine, applications, and needs.
We can then match you up with the ideal McLaren Industries industrial solid rubber tires, whether they fall into one of the above categories or you would be better equipped with one of our specialty tires like the extreme duty X-Dirt Terrain, the ground-sensitive Air Monster or the economical Maximizer™.
Why McLaren Industries Solid Rubber Tires?
McLaren Industries has been manufacturing aftermarket heavy-duty solid cushion tires for more than 20 years. We were the first company to deliver a truly puncture-proof product, and we continue to innovate to this day. Choose our products for performance you can count on, even when working with aggressive attachments that would strain a standard pneumatic tire. With them, you can continue working effectively and maintaining peak performance without risking downtime.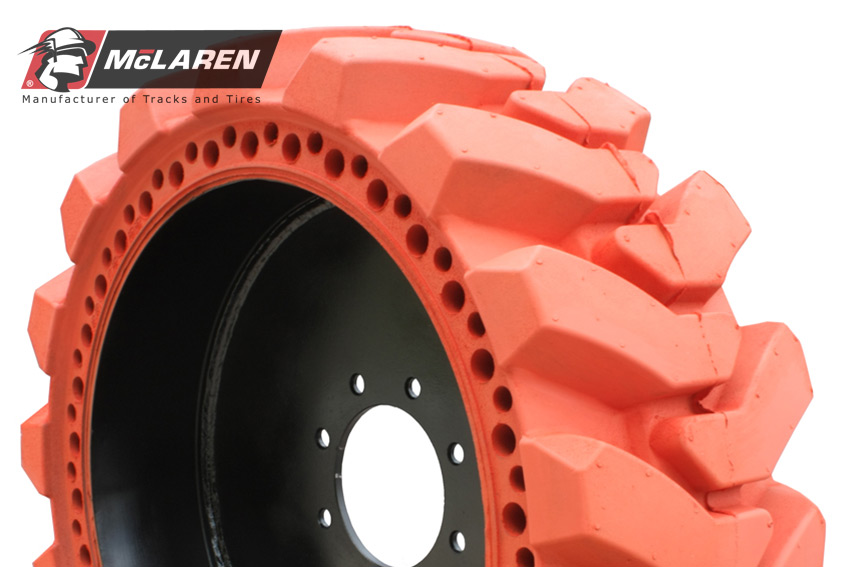 Another benefit of working with McLaren Industries is our extensive catalog. Our tires are suitable OEM replacements for most skid steers, backhoes and telehandlers by Cat, John Deere, Bobcat, Kubota, Takeuchi, Volvo, Gehl, and other leading manufacturers. We have the largest selection of tread patterns and sizes, with options such as non-marking orange or gray rubber compound to further expand the potential applications for our products.
Get Started Today
Keep browsing our website to learn more about our current lineup of solid rubber tires for compact construction and heavy equipment. To speak with a representative or get help choosing the best tire for your needs, please contact McLaren Industries directly or call us at (800) 836-0040.
Specs / Sizes
Request a quote