Rubber Tracks
McLaren Industries is the #1 rubber track manufacturer in the United States.  We offer the most extensive line of rubber tracks for compact track loaders and mini excavators in the industry.  From years of manufacturing for OEM customers, McLaren has become the leader in rubber track technology and development.  Many innovations ranging from belting technology to specialized forging material for extended track life innovations brought to the industry by McLaren. 

McLaren's decades of manufacturing technology and experience allows us to diversify and produce a comprehensive line of tracks to fit the needs of all applications and price levels.  McLaren is your one-stop shop for all your rubber track and replacement rubber track needs.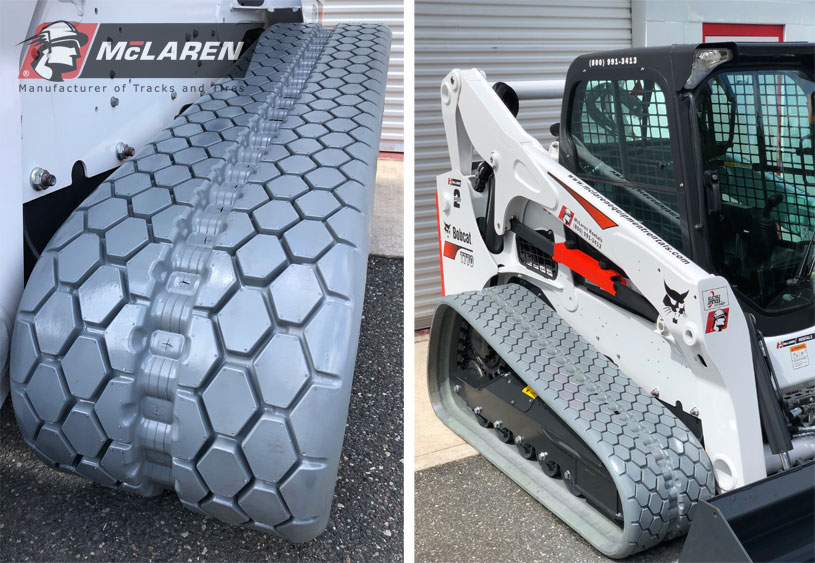 Rubber Tracks: Features and Benefits
McLaren Industries is the only fully integrated Rubber Track specialist in the world. McLaren designs and manufactures all of its own manufacturing equipment such as Vulcanizing Press Machines, Molds, and Tooling. We also research and develop our own proprietary rubber compound formulations. We design and test our heavy-duty rubber tracks not only in the lab but also in the field. McLaren tests thousands of hours every year to develop and create the best tracks for machinery within the industry. With McLaren, you will get the best value per hour on your rubber tracks guaranteed!

Proprietary technologies developed and used by McLaren:
SpoolRite Belting Technology™: SpoolRite technology features a pre-manufactured steel belt using a single continuous steel cord. The pre-made belt provides exceptional strength with none of the weak spots that occur on other competitors' continuous cable systems.
Advanced Rubber Compound: Tens of thousands of hours in research, development and testing have been invested to produce our advanced rubber compound formulations. We use up to five different rubber compound in a single McLaren rubber track. Expect high performance, properties in tread wear, puncture, tear, and crack resistant. The exceptional Rubber Compound used by McLaren enables our rubber track outlast the competition.
Advanced Technology Forging: with up to 50% stronger forgings and up to double the wear resistance versus competitors. Superior forgings will last the entire life of the track without breaking or deforming. McLaren also utilizes a Proprietary Metal Bonding Technology that eliminates link ejection.

Thanks to these and other innovations, McLaren Industries' rubber tracks for skid steers and mini excavators will deliver the best return on your investment.

Our Rubber Tracks
Our heavy-duty replacement rubber tracks are manufactured for use on equipment by Bobcat, Cat®, Caterpillar, Kubota, Case, New Holland, John Deere, Komatsu, ASV, Polaris, Terex, and other leading manufacturers.
Maximizer™: The Maximizer series is our value-priced option. Maximizer tracks offer the best value on the market. Despite their more accessible price point, they still contain up to 30% more tread than most OEM components.
NextGen™: The NextGen series is our high performance line of replacement rubber tracks. The NextGen family includes the TDF™ series, which features a double offset tread pattern for reduced vibration and undercarriage wear, and the TURF™ series, which we've engineered for landscaping applications where minimizing ground disruption is a priority. The Next Gen Family also includes C-Pattern, Block Pattern and Zig-Zag Pattern tracks.
Terrapin: Our newest CTL (Compact Track Loader) rubber track, the patented Terrapin features a unique tread pattern that delivers the smoothest ride in the industry, excellent traction but with reduced damage to turf. Excellent traction and grip in wet conditions. The unique design prevents rock and debris from damaging the rubber track body and track structure. Engineered to be a true multipurpose track. The Terrapin offers a smooth, comfortable ride on asphalt, concrete, lawns, rocks, and gravel.
With McLaren being a manufacturer, we have the knowledge and insight into what makes for the most durable and dependable replacement rubber track on the market. Whether you choose the OEM quality NextGen series or the more economical Maximizer line of rubber tracks, trust and believe that when you choose a McLaren replacement rubber track, you are getting over 20 years of expertise and experience in the rubber track industry. Our rubber tracks will outlast any competitor on the market, bar none.
What Machines Do Our Rubber Tracks Fit?
All of our heavy-duty rubber tracks fit most major brands of mini-excavator and track loader machines. Some of these brands we provide rubber tracks for include Bobcat, CAT, Caterpillar, Case, John Deere, Kubota, ASV, Polaris, New Holland, Yanmar, Gehl, Terex, and more. We know how to build aftermarket rubber tracks that fit in seamlessly with these machines because we spent years as a supplier of OEM parts. We can assure you that not only do our replacement rubber tracks fit all these machines, we are certain that you will find they exceed the capabilities of the originals.
Over 30 available tread patterns further expand the potential applications for our products. As a full line rubber track supplier, our rubber tracks for sale include a non-marking option for indoor use.

How Do I Choose the Right Rubber Tracks?
So given that you are not limited by the constraints of your machine, how do you know which rubber tracks for your compact track loader, multi-terrain loader or mini-excavator to choose?
In most cases, our line of Terrapin tracks will do the job. These replacement rubber tracks are suitable for smoothly riding over flat, hard surfaces like concrete, for maintaining traction on softer or wet surfaces like lawns and for handling debris-strewn surfaces with particles such as rocks and gravel without sustaining damage to the track.

For more specific rubber track needs, you will want to look at the NextGen™ line. The TURF™ series is great for golf courses, sports fields, gardens and other areas where minimal track pressure on the ground is important, while the TDF™ series is built to last even in challenging conditions.
In many situations, our Maximizer™ line is more than sufficient to do the job and can help you stay within your budget.
We understand that even with these guidelines, figuring out which tracks are right for your machines and applications can still feel like a challenge. That's why we're happy to lend a hand. If you have any questions about tread width, tread pattern, which of our products are best suited to your specific operations or anything else related to our products, just get in touch.
Our teams of experts know all about replacement rubber tracks and tires and can provide just the guidance you need. Let us know your requirements, what your goals are and what machines you are using and we will direct you to your best option.
McLaren replacement tracks can help increase your productivity, cut costs and even offer a lower-stress ride for your employees, with reduced vibration and smoother operation. Remember that we have provided rubber tracks for machines that work in a wide variety of industries and applications, including landscaping, light construction and heavy construction. We have also worked with just about every major brand, so finding the right aftermarket tracks for your machines will not be a problem.


Best Rubber Tracks for Skid Steer Call (800) 836-0040
Follow the links on this page to learn more about our full selection of rubber tracks for compact track loaders, multi-terrain loaders, mini excavators, Morooka carrier dumpers, tracked lifts, and harvesters. To learn more about our high-quality rubber tracks for sale for a wide range of equipment, contact us online or call us at (800) 836-0040.
Request a quote