Rubber Tracks
Maintaining productivity in difficult working conditions requires specialized tools. You've invested in your fleet by purchasing quality equipment — but are you using it to its full potential? A few small changes to your key assets can have a considerable impact on your bottom line.
Upgrading the original tracks on a mini excavator, multi-terrain loader or another machine in favor of a McLaren Industries product has multiple benefits. We engineer our rubber tracks for durability and performance, even in the most difficult terrain. And with an extensive selection of models, options and tread patterns, it's easy to find a track that's custom-built for your specific application.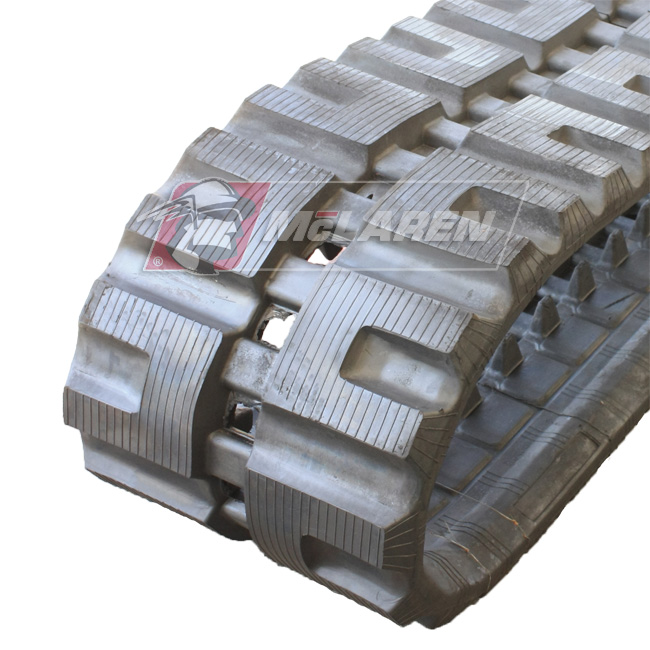 Features and Benefits
All of our replacement rubber tracks employ a pair of proprietary technologies:
SpoolRite Belting Technology™: SpoolRite technology features a single continuous steel belting cable running through the track. This provides exceptional strength with none of the weak spots that occur on other reinforced products.
Advanced Rubber Compound: The product of extensive research and engineering, our advanced rubber compound leads the industry in performance. Count on our rubber equipment tracks for a long life and a smooth ride, even in rough terrain.
Thanks to these and other innovations, McLaren Industries' rubber tracks will deliver excellent resistance to cuts, tears and wear, with a guaranteed fit and improved rigidity in uneven terrain, less risk of delamination and lug failure, and other benefits. That, in turn, translates to longer life and better machine uptime — factors that contribute positively to your bottom line.

Our Products
Our heavy-duty rubber replacement tracks are suitable for use on equipment by Cat®, Kubota, John Deere, Komatsu snf other leading manufacturers. Swapping out the worn out original tracks for a high-quality replacement is fast and easy. Our core product lines include:
Maximizer™: The Maximizer series is our value-priced option, suitable for machines that see infrequent use, or are predominantly driven in stable, flat terrain. Maximizer rubber equipment tracks offer the best value on the market. Despite their more accessible price point, they still contain up to 30% more tread than most OEM components.
NextGen™: The NextGen series of rubber replacement tracks builds on the benefits of the Maximizer line to offer even better performance in rough conditions. The NextGen family includes the TDF™ series, which features a double offset tread pattern for reduced vibration and undercarriage wear, and the TURF™ series, which we've engineered for landscaping applications where minimizing ground disruption is a priority.
Terrapin: Our newest rubber equipment track, the patented Terrapin features a unique tread pattern that delivers excellent traction and grip in wet conditions, while preventing rocks and debris from damaging a machine's undercarriage. Engineered to be a true multipurpose track, the Terrapin offers a smooth, comfortable ride on asphalt, concrete, lawns, rocks and

gravel.
Over 24 available tread patterns further expand the potential applications for our products. As full line rubber track supplier, our rubber tracks for sale include a non-marking orange option for indoor use.
Follow the links on this page to learn more about our full selection of rubber replacement tracks for compact track loaders, multi-terrain loaders, mini excavators, carrier dumpers, aerial platforms and harvesters. To learn more about our high-quality rubber tracks for a wide range of equipment, contact us online or call us at (800) 836-0040.
Request a quote