Rubber Tracks for Mini Excavators
Rubber Tracks for Mini Excavators
Mini excavators offer portable power in construction, landscaping work and other applications. Several companies — including Cat®, John Deere, Komatsu and other leading brands — manufacture mini excavators in a range of sizes and configurations. Adding one to your fleet will help you take on a broader range of jobs.
The majority of excavators run on tracks — if you're looking to upgrade from the OEM part, McLaren Industries has several excellent options that will deliver improved stability and performance. Doing so can help you get more out of your machine, run a more economical and efficient operation, and enhance operator comfort — among other benefits.
Benefits of McLaren Excavator Tracks
There are many advantages to switching out your OEM tracks for an aftermarket part by McLaren Industries. Our products deliver:
- Improved digging performance, greater pushing power and increased traction.
- Multiple specialized tread patterns for use in varying terrains and working conditions.
- Prolonged undercarriage life and extended intervals between scheduled track replacements.
- A smoother ride that delivers superior operator comfort over a long shift.
All told, these benefits enhance machine performance as well as improve your bottom line. You'll be more productive with less downtime, while getting a more versatile unit that can expand the working capacity of your fleet without the need for additional equipment.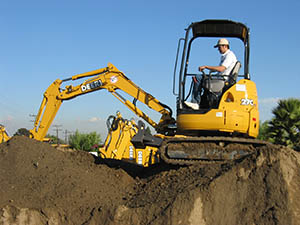 Our Products
Every business has different needs — there are no one-size-fits-all solutions when it comes to replacing your excavator tracks. That's why we manufacture and sell three main types of replacement rubber tracks for mini excavators:
- NextGen™ rubber tracks: The NextGen product line includes rubber excavator tracks ranging in size from 80 to 500 mm, with a variety of tread patterns and configurations. All products feature our SpoolRite Belting Technology™ — a jointless steel belt that runs throughout the track for added strength and durability. We manufacture the track itself from a proprietary rubber compound that outperforms the OEM alternative, even in the most demanding terrains and applications.

- Maximizer™ rubber tracks: The Maximizer product line is a budget-friendly alternative to our NextGen tracks that still delivers exceptional McLaren Industries quality and performance. All tracks include a continuous reinforced steel belt and contain up to 30% more rubber than a standard product, further adding to their unique value proposition by extending their service life. The Maximizer line ranges in size from 180 to 450 mm, offering options for any machine.

- HYBRID™ series steel tracks with bolt-on rubber pads: The HYBRID series offers the best of both worlds — steel's superior strength and rubber's durability. HYBRID products feature a virtually indestructible steel track with replaceable rubber pads. In rough ground conditions, remove the pads for an all-steel track. The HYBRID series is our heaviest-duty mini excavator track, available in 300 to 450 mm width sizes and suitable for demanding mining, demolition and other jobs.
All our replacement tracks are compatible with Cat and other popular machines. Request a quote online or give us a call at (800) 836-0040 to learn more about our various product lines or for help choosing the best model and size for your excavator.
Reliability and durability: McLaren rubber tracks for mini excavators stand out with consistent quality and flawless performance even on even the harshest terrain. Main features and product advantages:
SpoolRite Belting Technology

Wear resistant rubber compound

Reliable metal-to-rubber bonding

Various tread patterns
Next Generation rubber tracks often outperform other premium tracks on OEM tests. Choosing premium rubber tracks by McLaren is a guarantee for increased productivity and longer undercarriage work life for your machine.
A tread pattern for every size has been carefully selected and optimized to deliver the optimal traction and minimum vibrations for every machine range.
Next Generation Series Mini Excavator rubber tracks are available a broad range of sizes, from 180 to 500 mm wide tracks.
These tracks feature McLaren's proprietary SpoolRite Belting Technology: a single jointless non-overlapping continuous steel belt. This technology consists of one single continuous steel cable with no joint connection and thus with no weak point prone to track brake.
Next Generation is a high performance Series of rubber tracks that guarantee more value for your money than any other aftermarket rubber track.
Cost effective aftermarket rubber tracks: the Maximizer rubber tracks for mini excavators provide reliability at the right price.
Track integrity due to the continuous reinforced steel belt 

Lower priced to fit the needs of contractors with budget restrictions
McLaren's mini excavator tracks use not only high quality rubber compound but also up to 30% more rubber compared to alternative tracks from the same class to ensure you get the maximum rubber track life for your money.
Full track size portfolio starting from 180 to 450 mm wide tracks
Maximizer Series of replacement rubber tracks offer reliable quality at the lowest possible price. Maximizer rubber tracks are built with a cost effective rubber compound and reinforced continuous steel belt to ensure rubber track integrity and durability
McLaren HYBRID™ Series Steel Tracks with Bolt-On Rubber Pads combine the strength of steel with the advantages of rubber. Designed to handle the most extreme ground conditions, they are virtually unbreakable and last twice as long as regular rubber tracks. The replaceable rubber shoes ensure excellent ground protection. HYBRID mini-excavator steel tracks are easy to install on any rubber track machine without changing any undercarriage parts.
Direct replacement of the existing rubber tracks for all mini excavators using interchangeable carriage system. 

Custom designed rubber pads offer excellent traction on any terrain enabling a single machine to do the entire job alone. 

Lower maintenance costs due to rubber pad replacements 

Cost effective solution for contractors working in urban areas where sensitive pavement, asphalt and concrete areas need to be protected.
The rubber pads can be easily removed on the spot to create an all-steel track that resists harsh conditions, such as demolition areas, rocky soil, gravel, stone and other challenging environment. Steel tracks are the right choice of equipment users who have to cope with severe ground and weather conditions where rubber tracks are not appropriate: mining, demolition and heavy construction sites in urban areas.
From 300 to 450 mm wide tracks
Steel is the best insurance for track longevity. Moreover, the 40Cr track link material used makes McLaren Hybrids the strongest tracks on the market. The tracks link body is manufactured to a hardness of HRC 32~35 and the top surface of track links is manufactured to a hardness of HRC50~55 using the most precise manufacturing techniques.

Our pads use McLaren's proprietary rubber compound formula making them stronger and more durable than rubber tracks. This ensures not only optimal resistance to sharp objects but also slow wear out and maximum reliability even in the harshest environmental conditions. All this allows the Hybrids to withstand the heaviest compact equipment loaded at its maximum capacity while offering flawless performance on any terrain.