Solid Cushion Tires for Wheel Loader
Loader Tires
To get the most out of your wheel loader, consider upgrading to a set of solid rubber wheel loader tires by McLaren Industries. Our solid wheel loader tire products have McLaren Semi-Pneumatic Technology™ that offer a soft pneumatic tire ride while avoiding downtime caused by flats for the life of the tire.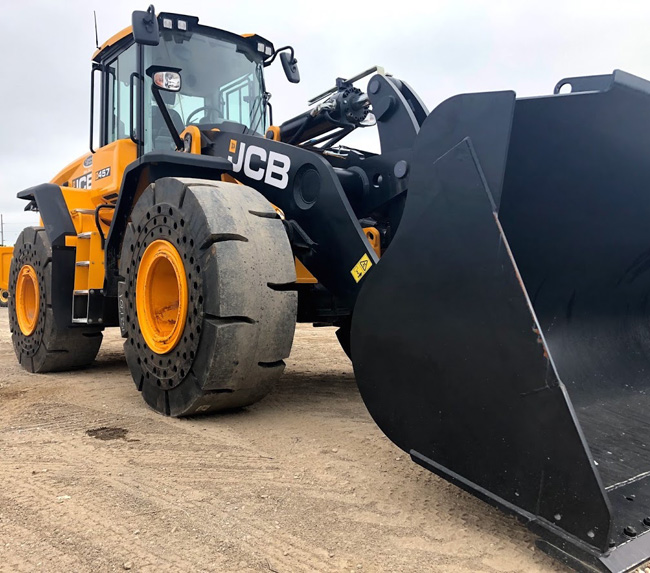 Benefits of Solid Wheel Loader Tires
McLaren Industries' solid wheel loader tires deliver flatproof protection without compromising ride quality. Upgrading your loader tires to one of our Nu-Air® products will make your wheel loader more versatile — expanding its potential uses and allowing you to do more with fewer pieces of equipment. Compared to pneumatic tires, our loader tires are puncture proof, which translates to improved productivity and increased profitability. Our puncture-proof solid cushion front end loader tires lower your machine's center of gravity for added stability and are completely maintenance free.


Available Products
Wheel loaders range in size from compact and small units to large machines capable of heavy-duty lifting. To support this wide range of configurations and applications, McLaren Industries offers four main replacement wheel loader tires, all of which are suitable for use with Caterpillar®, John Deere, Kubota, Volvo, Kawasaki, New Holland, Case, Michigan, Terex, JCB, Komatsu, Doosan, Hyundai, Hitachi, Yanmar and other equipment:

- Nu-Air Dirt Terrain (DT): The DT is our most versatile tire, ideal for a variety of on- and off-road applications and working conditions. Like all Nu-Air tires, it features our exclusive Semi-Pneumatic Technology™, a three-layer design that balances comfort with puncture-resistant strength. Use the DT tire in general construction, mining, scrap yards and other job sites. Sizes include 17.5x25 (53X17.5-25), 23.5x25 (63X23.5-25), 26.5x25 (68X26.5-25) and 18.00-20 (42X18-20).

- Nu-Air All Terrain (AT): The AT model takes the core features of the DT and adds a wider footprint for increased contact with the ground, as well as a self-cleaning tread pattern that performs better in wet and rainy conditions. We offer the AT in multiple sizes for all types of front end loader tires: 17.5x25 (53X17.5-25), 20.5x25 (58X20.5-25), 23.5x25 (63X23.5-25), 26.5x25 (68X26.5-25), 29.5x25 (74X29.5-25), 35/65-33 (80X33.5-33).

- Nu-Air Rocky Terrain (RT): The RT is our best solid wheel loader tire for rough and rocky terrain. We've engineered it for maximum traction when working on rocks, debris and scrap, or in any other harsh environment. The RT comes in 18.00-25 (64X18-25) sizing only.

-Nu-Air Super Slick (SS): The SS is a practical, economical choice for use exclusively on flat surfaces. Because it has no tread, it will wear out slower, which means more time between replacements and more value for your money. Available in 17.5x25 (53X17.5-25), 18.00-25 (64X18-25), 20.5x25 (58X20.5-25), 23.5x25 (63X23.5-25) and 26.5x25 (68X26.5-25) sizes.

For help choosing the best replacement wheel loader tires for sale, give us a call at (800) 836-0040. You can also request a quote for your wheel loader replacement tires.