Over-the-Tire Tracks for Equipment
Skid steers are vital parts of any fleet of compact construction equipment. However, they often struggle in difficult ground conditions. McLaren Industries' Over-the-Tire (OTT™) tracks expand the capabilities of any skidder, effectively allowing them to do the work of two machines. You can use them to quickly and easily increase stability, flotation, traction and tire protection when working in rough terrain. Our products are compatible with equipment by all major manufacturers and are available in a wide range of configurations to help you take on the most demanding tasks.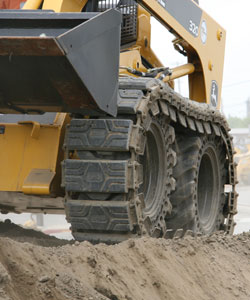 Over Tire Rubber Tracks for Every Application
We understand that no two fleets are the same. That's why we manufacture one of the most extensive ranges of OTT tracks on the market today. Our four main product lines are:
Rubber OTT, our most versatile option, delivering traction and flotation while remaining gentle enough to use on turf, asphalt and other surfaces.
Magnum OTT, our toughest over-the-tire equipment track, which offers the improved pushing and pulling power you need to take on demolition, land clearing and

other demanding tasks.

Diamond OTT, a specialized track for rough terrain, with added bite for digging into mud, clay, ice, snow and other loose materials.
Maximizer OTT, a value-priced OTT equipment track that doesn't compromise on quality or performance.
Rubber, Magnum and Diamond products feature a high-grade, manganese-enriched steel base and heat-treated pins for additional durability. Maximizer tracks are made from corrosion-resistant, heat-treated steel.
All tracks are fully rebuildable, effectively extending their service life indefinitely. Select products feature replaceable rubber pads and are available with an optional nonmarking orange or gray outer material. Multiple sizes and configurations offer options for virtually all equipment.
Key Benefits
McLaren Industries is a longstanding leader in the field of over-the-tire tracks for heavy equipment. Our products deliver multiple benefits to your team and your bottom line, including:
Improved machine performance: Compared to stock wheels, OTT tracks offer better traction, better flotation and increased lateral stability, no matter where you are working.
Less downtime: OTT tracks include a range of features, such as a patented self-cleaning design, that reduces ongoing service requirements and keeps wear and tear to a minimum.
Ease of use: Our tracks install quickly on any machine and are easy to adjust, so you can achieve the perfect fit and be ready to go in just minutes.
Long-term value: Not only are our OTT equipment tracks completely rebuildable, but they also offer value by protecting your wheels and undercarriage from wear and tear, extending the life of these expensive, essential machine components.
Low Maintenance: Our tracks are build of the highest quality materials and designed to give you maximum performance with minimal repairs
Fully Rebuildable: The McLaren Industries design allows for easy replacement and rebuilding of the tracks
Ultimately, these benefits help you run a more profitable business. With McLaren Industries' tracks, you can maximize your machines, doing more with a single asset while reducing maintenance expenses and other overhead costs.
Learn more about our various product lines by checking out our Skid Steer OTT page. If you'd like to request pricing or to learn more about any of our heavy-duty OTT tracks for construction equipment, please use our contact form or call us at (800) 836-0040 to get in touch with a representative directly.
Request a quote