Overview of Skid Steer Brush Cutter Attachments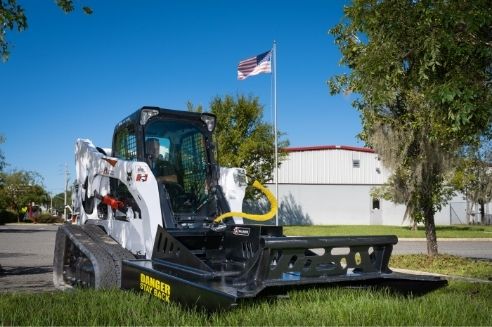 When it comes to equipping your skid steer with the proper attachments for the job, the brush cutter is one of the top options to consider. However, though these attachments are useful, there's a lot more to know about them if you're going to apply them properly on a jobsite. We've compiled this overview of skid steer brush cutter attachments so you can go into every cutting job with confidence.
What Is a Skid Steer Brush Cutter?
If you're going to use your skid steer brush cutter properly, the first step is to familiarize yourself with what these machines are. Cutters are large, commercial-grade mowers that utilize the power generated from your skid steer's hydraulics system. Connected directly to pressurized hydraulic fluid tubing, these machines convert this energy into additional power for more advanced landscaping projects. Some capabilities for skid steer brush cutters include chopping through small trees, clearing overgrown brush, and removing invasive plants or grasses from an area.
The Different Types of Skid Steer Brush Cutters
There isn't just a singular type of skid steer brush cutter attachment that you can use for any type of job. In fact, there are two distinct varieties, each with a slightly different design to accommodate certain needs. Here's what to know about the open-face and closed-face brush cutters.
Open-Face Brush Cutters
The first type of brush cutter attachment is the open-face model. This product has a large, open front with a push bar set right above the mouth of the machine. It's a design best suited for processing larger, denser brush and pushing down small trees in your path.
Closed-Face Brush Cutters
Conversely, closed-face brush cutter models have a front chain barrier just before the mower's opening. This makes them better for jobs that require finer cutting around obstacles such as trees or fencing. It's important to note also that closed-face cutters don't have the push bar that open-face models do, making them less ideal for felling small trees or shrubs.
Common Skid Steer Brush Cutter Applications
While it might seem as though skid steer brush cutters best suit the landscaping industry, it's important to recognize that they play a large role in a series of other fields as well. Whether it be for construction, commercial or residential property maintenance, or agriculture, these machines can clear lots and yards with ease. So don't miss out on the efficiency of this tool just because you don't work on landscaping projects exclusively.
Selecting Your Own Skid Steer Brush Cutter
It isn't enough, though, to know about the basic types and applications of a brush cutter attachment. You still need to understand the different aspects of purchasing and owning one. So we'll cover a few tips for buying your own in this overview of skid steer brush cutter attachments as well. Here's what you need to consider during the purchasing process.
Consider Hydraulic Fluid Flow Rate
Depending on the make, model, and size of your skid steer equipment, you'll have different hydraulic system flow rates. This indicates how much power you'll be able to transfer to your brush cutter during operation. As such, it's vital that you purchase an attachment that corresponds to the flow rate of your skid steer. Otherwise, you risk causing serious damage to your skid steer over time.
Check Skid Steer Capacity
It's also important to understand your skid steer's weight and lifting limits. For you to use your brush cutter attachment optimally, it's vital that your machine can lift and maneuver it across a jobsite. So pay special attention to how much your skid steer can handle in its manufacturer's manual and find an attachment with a weight that falls within those limits.
Monitor the Attachment Dimensions
Additionally, you'll want an attachment with dimensions that correspond to your skid steer's build. Equipment that sits wider than your skid steer's tracks or tires can clear a path for your skid steer to move, avoiding damage along the way. You also want a machine that's wide enough to create your desired cutting width for the project.
Operating Tips for Your Skid Steer Brush Cutter
Once you have your brush cutter attachment, you want to determine how to best operate it. The way you run these machines can have a large impact on the results you get as well as how long your device lasts. So keep these operational tips in mind.
Double-Check Attachment Compatibility
Before you start running your brush cutter, make sure you double-check its compatibility with your skid steer. Though you've been over this before during the purchasing process, checking again can protect your machine from damage and better guarantee your new cutter is operating at full efficiency. During these inspections, clarify capacity, flow rate, and attachment width so that everything matches up to skid steer capabilities.
Keep Cutter Below Cabin Door
As you're maneuvering across the jobsite, you'll want to keep your brush cutter lower than your skid steer's cabin door. Not only does this help maintain a consistent cutting height for your finished property, but it also prevents you from accidentally blocking your exit. When raised too high, these attachments can block your cabin door, keeping you trapped inside should you need to make a quick escape. So developing the habit of keeping these cutters low can be the key to maximizing jobsite safety.
Only Work in Designated Areas
Make sure that you're only running your brush cutter in designated work areas as well. This is the best way to avoid contact with other workers nearby and reduce the likelihood of an accident. Working methodically by moving your cutter in straight, predictable patterns can help maximize the quality of your results too.
Maintaining Your Skid Steer Brush Cutter
Above all, though, you want to ensure you're maintaining these devices correctly. Like with any piece of equipment, proper maintenance efforts can preserve your product's lifespan, improve cutting quality, and reduce the cost of repairs. Keep these things in mind post-project.
Check for Damage or Loose Bolts
There's ample possibility for damage during a brush cutting job, and inspecting your equipment after the fact can let you know whether you'll need repairs. The blade is especially prone to damage from rocks and thicker stumps or roots. So double-check for chips or loose bolts.
Clean Out Your Cutter
Cleaning out your cutter can help maintain it too. After all, a lot of debris can build up under the hood, and these materials can wreak havoc on your components over time. Taking the time to clean out your cutter now can really preserve it later.
Check Gear Oil in Drive Unit
Make sure you're checking the gear oil in the drive unit as well. This component makes it possible for you to switch gears to best control your cutter. Because of this, reduced oil levels can make it more difficult to get your device to do what you want. Your manufacturer's manual will provide instructions for how often you should check the oil, and it's the best way to keep your machine operating as it should be.
If you're going to use a brush cutter for your job, you want to make sure you're using one of the best. We at McLaren sell premium skid steer brush cutter attachments that can help you tackle any type of jobsite. You can contact us here or give us a call at 800-836-0040 to learn more about our products.